In Vancouver, BC Tune in every Wednesday 6 – 7 PM to CFRO – 100.5 FM
Anywhere in the world by Stream, Satellite, TelusTv - How to Listen
Only last 10 shows are available to listen to for free - REGISTER NOW. Supporting Members have unlimited access to this and hundreds of other life changing programs - Click Here to sign-up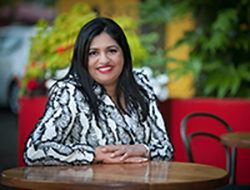 Zahra Efan
is an Abundant Business Coach, Best Selling Author, a Key Note speaker and a Trainer. Most importantly, she is a mother of two children and a wife, also a social activist at heart who wears many hats along with working with her fabulous clients.
She specializes in supporting creative female entrepreneurs to create financially successful businesses and soul satisfying abundant lifestyles. She combines her background in marketing and sales with her intuition to guide her clients toward successful businesses and fulfilling lives.
Zahra has been published in media extensively and has 30+ media interview including appearing on TV and Radio speaking about principles of abundance in business and life. One of her recent  key note speech was at Vancouver's Top Entrepreneurs event. She has also been published along side Debbie Ford in Aspire Magazine along with many other publications including best-selling book 'Manifesting In High Heels.'
Zahra's clients are located all over the world including Canada, Australia, and the United States. Zahra works with selected number of private clients, teaches group programs and gives workshop and key note speeches to large audiences. Her passion is to support female entrepreneurs creating a successful business with ease, joy and abundance.

Abundance Business Abundant Life
Its Not a Business, Its a LifeStyle
Create A Lifestyle that Your Business Serves, not a business that your Life Serves…
If you are following all the marketing advice out there and still not making the income you would like to make in your Heart Centered Business, you need to listen to the information shared on this summit so that you can learn:
What is the source of all abundance?
How can you tune into that abundance?
Why is it easy and even fun to make money when you get your inspiration from the abundant principles of the Universe?
How to find the courage to be you and create a wildly successful business from that place of knowing YOU.
How to serve your deepest desires of connection, collaboration and community through your business.
How to go deep and dig into the dark to find the wisdom of your soul.
How to honour your own rhythums, cycles, needs and desires instead of chasing or getting distracted by what everyone else is doing and more…..
Speaker Schedule
Session 1: Create Abundance From Honouring Your Sexuality
Liyana Silver
February 2, 2015
How the Sexy Wisdom Of Your Body can Lead you To Abundance In Business and Life
Session 2: Create Abundance From Your Dark Side
Antiqua Libby
February 3, 2015
Creating Abundance From Dark Times – the art of happiness
Session 3: Create Abundance From Your Dark Side
Leela Somya
February 4, 2015
Your Dark Night of the Soul is the Key to Your D*Light-Full Work & Life
Session 4: Abundance Through A Healthy Relationship with Money 1
Karen Russo
February 5, 2015
Grow Yourself, Grow Your Wealth
Session 5: Abundance In Business Through Using Your Intuition 1
Stephanie McWilliams
February 6, 2015
Use Intuition In Business To Create Success
Session 6: Soul Language and Abundance In Business
Jennifer Urezzio
February 9, 2015
Creating a Deep Sense of Safety to Speak Your Truth and Receive Abundantly
Session 7: Creativity In Business
Laura West
February 10, 2015
Embrace Your Courageous Creativity in your Business for more Genuine Joy, Abundance and Success!
Session 8: The Art of Creating Products that Breakthrough the Noise and Get Noticed
Marcy Nelson-Garrison
February 11, 2015
When Your Inner Rebel Meets Your Muse – Watch Out! The Art of Creating Products that Breakthrough the Noise and Get Noticed
Session 9: Abundance Through Clarity
Zahra Efan
February 12, 2015
Use clarity of Message, Money & Marketing to Create a Business With Feminine Ease and Grace
Session 10: The 3 Key Messaging Hurdles Purposepreneurs Tend To Trip Over
Lissa Bolle
Februry 13, 2015
The 3 Key Messaging Hurdles Purposepreneurs Tend To Trip Over (& what to do about them)
Session 11: Magnetize Abundance Through Your Marketing Message
Tonya Davidson
February 16, 2015
Magnetizing Abundance Through Your Presence and Messaging
Session 12: Abundance Through Marketing
Karen McGregor
February 17, 2015
How to Triple Your Income Through Speaking
Session 13: Out of Overwhelm and Into Profitability
Jason Stein
February 18, 2015
Out of Overwhelm and Into Profitability
Session 14: The New Feminine Bliss Business Formula – Sacred Sales Solution™
Nan Akasha
February 19, 2015
The New Feminine Bliss Business Formula – Sacred Sales Solution™
Session 15: Older, Wiser, and More Abundant
Kaya Singer
February 20th, 2015
Business Abundance the Wise Woman Way