In Vancouver, BC Tune in every Wednesday 6 – 7 PM to CFRO – 100.5 FM
Anywhere in the world by Stream, Satellite, TelusTv - How to Listen
Only last 10 shows are available to listen to for free - REGISTER NOW. Supporting Members have unlimited access to this and hundreds of other life changing programs - Click Here to sign-up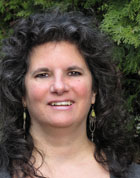 Marion Baker, The LOVE Therapist, is a Registered Therapeutic Transpersonal Psychology Counsellor, who had been struggling through years of internet dating. She was at her dating wits end. Marion was tired of packing up her last remnants of dignity to leave yet another failed relationship that, only months ago, was to be THE ONE. What was the secret to lasting relationships? Still single in her mid-forties, she didn't have a clue.
A change came when Marion enrolled in a counselling program where she not only learned to counsel, but her life was the curriculum of the course. There she found the support and the courage to face her own self defeating patterns that were keeping her from finding lasting love. And she realized she wasn't alone.
When she shared her struggle with other women there was a common theme. Most single women wanted to be in a relationship and didn't understand what was keeping them from finding true love. Marion shares her own and other women's love stories, some successful, some not, then comments on the stories from a counselling perspective, as if you were sitting in her office. What went wrong? Could the situation have gone differently? What repeating pattern is revealed in this woman's life that she can now change? Any single women reading these stories will not only be drawn in, but they will most assuredly find themselves and their situation amongst these pages.
Marion takes the reader through much of her own unsuccessful dating history and shows the steps she took to her own success; a happy marriage. Through revealing her own self defeating patterns, including the commonly shared fantasy dream of a relationship that would save her, she then reveals what she did differently. Most importantly, finding a devout spiritual path was a large part of her own success model. "When we can tap into a source of love that is bigger than our own personality, it opens us up to a bigger picture of what love is. What you can give a relationship becomes more important than what you can get from it."
Women learn how they are shaped by their families and their cultures as they grow up, so their unconscious attractions become more clear. "Why am I always attracted to the bad boys that love me and leave me?" As we delve into our familial patterns, the secrets are revealed.
Also important, women will get a sense of empowerment as they discover their own piece of the puzzle in their relationship issues. You can't do anything about a self defeating pattern if you think that it's the other person that needs to make all of the changes. This is the most common mindset of many people going into counselling. What most don't realize is that we teach others how to treat us. It's when women discover that they can influence a relationship, and that they are an equal participant in the pattern that they can start to make their own changes.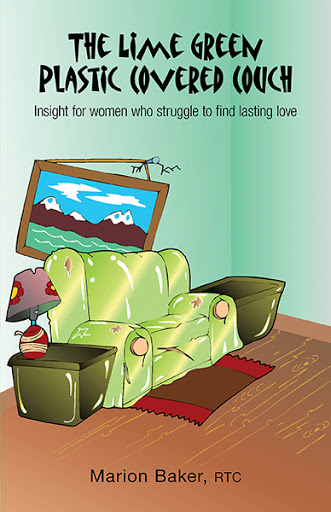 THE LIME GREEN PLASTIC COVERED COUCH
INSIGHT for women who struggle to find lasting love
Discover The Key To Finding The Relationship Of Your Dreams (And Prepare To Find It Where You Least Expect)
This book will highlight how women get caught up in the Hollywood fantasy of a relationship and shows them the road out is all about getting acquainted with who they really are, bumps, warts and all, which, in turn, helps us learn to love the equally, beautifully flawed male species.
Marion then encourages women to find their spiritual path. If women can tap into and learn to trust that the Universe is a friendly place, that there is a source of love that has their best interests at heart, then they can surrender their struggle and let love in.
The Lime Green Plastic Covered Couch is available internationally and on Amazon for $16.99. Click Here For more information