In Vancouver, BC Tune in every Wednesday 6 – 7 PM to CFRO – 100.5 FM
Anywhere in the world by Stream, Satellite, TelusTv - How to Listen
Only last 10 shows are available to listen to for free - REGISTER NOW. Supporting Members have unlimited access to this and hundreds of other life changing programs - Click Here to sign-up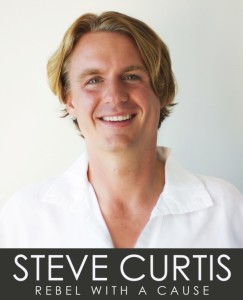 Steve Curtis
is an entrepreneur, leader and innovator with a passion for business, science, and adventure. After leaving school at 14 and early success in sales, he started ZAG at 19. From a $500 credit card, he grew the firm to 5M in annual sales in less than 5 years. A decade later the firm had 120 global staff.
In 2005, he was diagnosed with a rare type of cancer for which there was no treatment, cure or survivors past a few years.
He traveled the world in pursuit of a cure and building a team of top researchers and clinicians from universities, such as Yale, Stanford and Harvard, he formed the TLC Foundation. They explored the cutting edge of mind-body and alternative medicine, including the emerging field of Psychoneuroimmunology and he focused on finding a solution through mastering health, the inner journey, and living a life of epic joy.
He also dedicated his life to serving others: mentoring at-risk youth and entrepreneurs, feeding the homeless, and led a project to bring clean water to 3,000 people in Lesotho, Africa. He started Adventure2Advance – summiting Mount Everest raising $100,000 for at-risk youth.
Today, 6 years later, after receiving no treatment, he is alive and well with, miraculously, no trace of his diagnosis. Steve has recently finished a book about his journey and is back at ZAG, driving with passion and purpose, focused on developing a global group of companies that enhance the way people experience and enjoy their lives.
Steve lives life to the fullest with achievements including numerous awards and becoming an author, public speaker, poet, singer, song writer, artist, pilot, extreme sportsman, mountain climber, and soon to be, Ironman and astronaut. He also reads 25-50 books every year and has taken time to go back and attend Harvard Business School and MIT.
Steve and ZAG businesses have been covered in the media including: The Global and Mail, CBC, CTV, New York Times, Wall Street Journal, CNN, MSNBC and Reuters International.
Below are a couple more links of Steve and what he is up to.