In Vancouver, BC Tune in every Wednesday 6 – 7 PM to CFRO – 100.5 FM
Anywhere in the world by Stream, Satellite, TelusTv - How to Listen
Only last 10 shows are available to listen to for free - REGISTER NOW. Supporting Members have unlimited access to this and hundreds of other life changing programs - Click Here to sign-up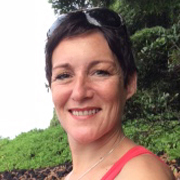 What do you do when you know your time is limited? That was the question facing Sharon Bele-Verdy when she was handed the diagnosis of an inoperable brain tumor. Realizing that she needed to both heal herself and dedicate her life to something greater than simply following the standard career path, Sharon embarked on a transformational journey that has taken her around the globe. Over the past six years, she has worked with sound healers, and not only has she been able to slow the advance of her condition, but has embarked on the seemingly impossible task of trying to save the last pristine forests of the world. Her current focus are the forests of Borneo and the indigenous Dayak people and animals who live there.
Sharon was born in New Zealand and despite not being indigenous, was raised in a Maori orphanage and various foster homes, remaining a ward of the state until coming of age. It was not until she was 16 and sent to live with her birth mother in Australia that she started to unravel the dark secrets of why she had been abandoned at birth. Despite the challenges of her youth, Sharon went to university and became highly successful in the corporate business world. Later in life, when serious health issues surfaced, her life's purpose and pathway changed forever. She believes that the health crises were the direct result of her disconnection to family, ancestors and community.
On a recent trip to the Kalimantan region of Borneo, she met the local indigenous communities of the Dayak people who live in total harmony with Mother Nature. It was then that she had the profound insight that the soul essence of all humanity and life on the planet are interconnected. As Sharon's courageous healing journey evolved, she studied two modalities – Sound for Change and Acutonics – that work with sound frequencies to help heal the psyche and the body. Sharon has written over 100 original songs and now plays guitar and performs to spread the message, share the journey and focus on the need to connect to the planet, our first Mother, if we are to heal and thrive.
Sharon has created Rise & Walk events inviting local communities to share in our concern for the well-being of the planet. In March 2015, she created Rise Byron Bay, in her hometown in Australia and this summer, Rise Galiano, on one of BC's Gulf Islands involved local musicians as well as an eco walk in the beautiful Bluffs Park led by Vancouver spiritual ecologist Robin Clark.
This October, Sharon will walk the full 800 km of the Santiago Camino Pilgrim Walk in northern Spain in Rise & Walk Camino followed by Rise Paris to tie in with the UN Summit on Climate Change that takes place there on November 30.
These Rise & Walk events are literally a way for everyone to feel their connection to the ground beneath their feet, to our only Mother Earth.   Click Here for more information