Only last 10 shows are available to listen to for free. Supporting Members have unlimited access to this and hundreds of other life changing programs – Click Here to sign-up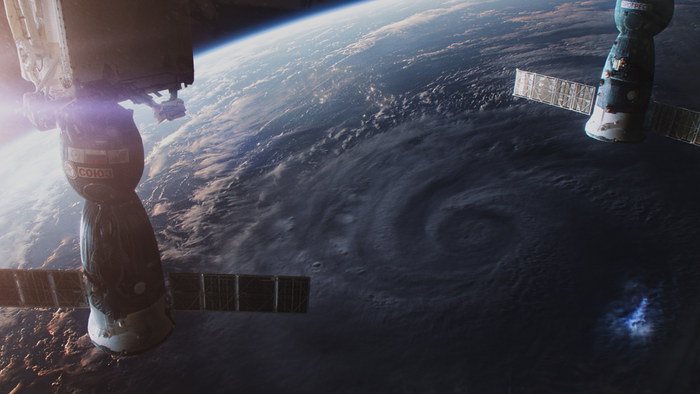 200 km/h winds, 18 cyclones, 12 countries… Andy Byatt (Blue Planet, Earth) Cyril Barbançon and Jacqueline Farmer have teamed up with NASA and composer Yann Tiersen to bring this thrilling and immersive experience to the big screen.
Beginning its tumultuous journey as an ominous sandstorm in Senegal, heading west across the Atlantic to toss enormous ships and waves topsy-turvy,
then crashing into the jungles of the Caribbean, we live inside this hurricane, and it is truly awesome, scary and incredible. Ants, lizards, bats, frogs, horses, homeless men, rivers, ocean reefs, the US Gulf coast… all bend before the power of this monsoon turned magnificent.
We see it from space, we see it through the eyes of animals, from the operations' rooms of the emergency agencies meant to warn us and help us cope — and we see it from the ground as it explodes and unleashes its fury upon us…
More Info:
- http://www.hurricane-themovie.com
- http://www.ouragan-lefilm.com
Producer/director: A childhood close to the land and nature founded Jacqueline Farmer's lifelong interest in attempting to understand the natural world and our place in it.
Following post graduate studies in biology and broadcast journalism, she went on to work for the BBC World Service, Radio France International, and various press outlets before joining Saint Thomas in 2002, where she has helmed award winning science and natural history projects as a director and producer for the past 13 years, working with National Geographic, Discovery, France 2, Arte, Channel Four, NHK, TVE, SVT etc. on numerous films and series. « Hurricane » is her first feature film.
Director : Cyril Barbançon was born in 1971 in the Haute Savoie in the French Alps, he spent his early years with his family in the mountains, experiencing the joys and hardships of rural isolation. « I remember when I used to go and get milk from the dairy. I had to walk there and back alone, a long journey often in waist deep snow. It was hard, but something I loved ! » At the age of 21, refusing to do his military service, he became a conscientious objector and  discovered a passion for wildlife  photography, through work with an association committed to conservation. In 1998, he made his first documentary film « The Red Dwarf » about the life of red squirrels. The film was broadcast internationally and won numerous prizes in festivals. On the heels of this experience, he went on to direct films for Arte, France 5, France 3 and Canal Plus. At ease with camera technology and the information systems which have revolutionized digital photography, he traveled widely, as a DOP and director, filming a multitude of species from killer whales in Antarctica, to penguins, humpback whales, lynx, bats, marmots and wolves. « … in the Roaring Forties, off the coast of the austere Crozet Islands, their immense black cliffs emerging through the mist, it was like the beginning of time and the world ».  He built up a solid experience both technical and in the field. These extreme experiences in nature also brought a fascination for light and Cyril began working on ads and music videos. At the same time he was developing with a small team a remote controlled airship, 14 metres in length, with a 3-axe gyrostabilised head, baptised « Soulcam ».  The airship became internationally recognised through commercialisation with Panavision, for its ability to provide exceptionally fluid, poetic images of landscapes and subject. After 5 years of flying,  the mysteries of the wind and weather systems have also become one of his passions.
A meeting with Alain Derobe (the 3D pioneer in France) in 2009 offered Cyril a new challenge in the technicality of stereo images. In order to shoot his first films in 3D, he built his own 3D rig. « It is unbelievable how 3D images have the capacity, like no other format does, to make me relive emotions that I feel, and felt as a child, in natural environments ». In 2010 a discussion in the middle of the desert on a shoot with Jacqueline Farmer gave birth to the idea of making a film for cinema about the wind. It was the start of the feature film « Hurricane : a Wind Odyssey » co-directed with Andy Byatt. 4 years of shooting 3D imagery across the world, in the heart of hurricanes, were to follow