In Vancouver, BC Tune in every Wednesday 6 – 7 PM to CFRO – 100.5 FM
Anywhere in the world by Stream, Satellite, TelusTv - How to Listen
Only last 10 shows are available to listen to for free - REGISTER NOW. Supporting Members have unlimited access to this and hundreds of other life changing programs - Click Here to sign-up
Live Interview with Paramahamsa Nithyananda
Wednesday Feb 19th 6- 7 PM in Vancouver on 100.5 FM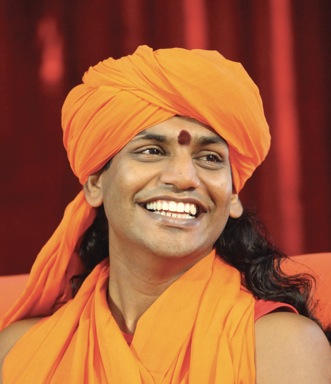 Paramahamsa Nithyananda, is recognized today as a clear, legitimate, apolitical voice of integrated Sanatana Hindu Dharma, and is revered as a living incarnation of super-consciousness by millions worldwide. He is a Maha Mandaleshwar (spiritual head) of Mahanirvani Peeth, the most ancient apex body of Hinduism. He is the most watched spiritual teacher on YouTube.com with over 16 million views, and the author of more than 300 books published in over 20 international languages. His talks are watched live everyday on http://www.Nithyananda.TV, as well as on multiple international television channels and via video conferencing. Paramahamsa is adept at successfully demystifying the yogic sciences like kundalini awakening, levitation, materialization, anti-ageing and going beyond food. His inimitable teaching style and programs on life solutions continue to transform millions of lives worldwide. He is a gifted healer curing thousands of people of diseases ranging from depression to cancer, often with a single touch.
He is a courageous survivor of religious persecution and media terrorism, including yellow journalism and extortions.
A spiritual genius, he provides enlightened insights into subjects ranging  form management to meditation, relationships to religion, success to spirituality. Paramahamsa Nithyananda brings to us a wealth of practical wisdom and techniques for lasting inner-transformation.
As a global humanitarian, Paramahamsa Nithyananda works incessantly to promote global peace, through transformation of the individual. Paramahamsa Nithyananda is the spiritual head of several non-profit organizations worldwide. His spiritual mission also includes imparting free knowledge of the ancient Vedic science through ashrams and centers established around the globe. Social-service activities include conducting meditation and de-addiction camps for juveniles and prisoners, free medical camps, donating artificial limb for the needy, empowering the youth, provide education and food for children in rural areas, relief work and disaster recovery management during natural calamities.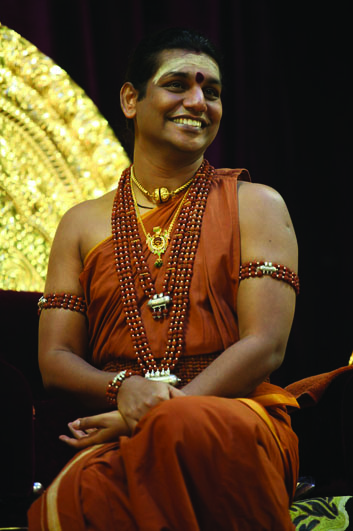 His vision as a spiritual architect is to guide humanity towards building an enlightened civilization, and mark an era that celebrates the achievement of realizing the highest human potential for peace, joy, success and harmony. His teachings propel humanity to go beyond the illusions created by self-doubt, self-hatred and self-denial and achieve Oneness with the divine within. He shows the way to " achieve the best of the inner and outer world" by realizing and expressing the divine powers that is innate to every individual. "You are sons of Immortality…amrutasya putrahaa", he reminds.  He has  caused a momentum of transformations through His breakthrough teachings that have changed the life course of people from various walks of life.
As an enlightened mystic, a born yogi, a powerful healer and a siddha, Paramahamsa Nithyananda is actively involved with scientists and researchers worldwide to decode and share the benefits of the mystical yogic sciences of the East, including levitation, teleportation and manifestation (materialization)
Paramahamsa Nithyananda continues to be an inspiring personality for millions of people worldwide. His simplicity, authenticity, depth of experience and his rare gift for making spirituality both practical and enjoyable have allowed His teachings to cross all age and geographical barriers. He experientially initiates individuals into rewriting their future to create a reality of a blissful and powerful life. Working and sharing with over 10 million people worldwide every year, Paramahamsa Nithyananda and His mission are committed to helping humanity make the next big breakthrough into super-consciousness, to establish enlightened societies.
Below is the link to the page that has been created for listeners of the interview to register and enter a raffle for a chance to win top selling books (Guaranteed Solutions and Bhagwad Gita) written by Swamjji.
http://www.innerawakening.org/vancouver
This interview will be simultaneously broadcasted as it happens from Bidadi on nithyananda.tv
Thousands of Swamiji's devotees around the globe will be able to watch it live as it happens.
Also as a rare case this interview will be part of the daily LIVE morning satsang in India.