In Vancouver, BC Tune in every Wednesday 6 – 7 PM to CFRO – 100.5 FM
Anywhere in the world by Stream, Satellite, TelusTv - How to Listen
Only last 10 shows are available to listen to for free - REGISTER NOW. Supporting Members have unlimited access to this and hundreds of other life changing programs - Click Here to sign-up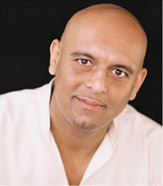 Satyen Raja, A remarkable living synthesis of Eastern wisdom and of Western practicality, Satyen Raja combines the power of the Warrior and the wisdom of the Sage to inspire audiences worldwide.
Satyen is a unique blend of power and of heart. He is a Kung-Fu Master and a trainer of the renowned Illumination Intensive. He has taught thousands of students in Canada, the United States, Australia and Europe the art of 'true power'.
For more info – http://warriorsage.com

There is a part of you…that is longing for more dynamic sexual passion in your life. Whether you are single, yearning to meaningfully share your life with a partner, or you are already in a relationship, something inside of you KNOWS that MORE SEXUAL AND INTIMATE FULFILLMENT IS POSSIBLE.
Goals –
Literally learn to open your heart in the midst of fear and beyond the bounds of old wounds.
Learn to receive the love you long to feel.
Energize your intimate relationship with ever-lasting spark, sizzle and passion.
Create the quality of life you long to live simply by learning how to deeply connect with others, possibly for the first time.
Draw the partner of your secret longing and of your deepest desires.
Serve your relationship with unprecedented generosity and depth.
Realize the potency of awakened sexual fire in your life and with your partner.
Free up whatever feels stuck in your life simply by completing practices designed to bring your own truth to the surface.
Gain understanding, humor and reverence for the true nature of both the masculine and the feminine.
Live with more pleasure, joy, success and ease by surrendering to your true nature through the exercises and teachings.

Sex, Passion & Enlightenment Introductory Workshop are happening soon!!
Seattle, WA
Thursday: Registration @ 6:30 pm
Thursday: Workshop – 7:00 pm – 11:00 pm
Date

Location

Event

Thursday, June 26, 2008

Comfort Suites Tukwila, 7200 Fun Center Way, Tukwila, WA

4 Hour Workshop




Seattle

, WA


Click Here to Register
Vancouver, BC
Saturday: Registration @ 12:30 pm
Saturday: Workshop – 1:00 pm – 5:00 pm
Date

Location

Event

Saturday, June 28, 2008

Holiday Inn – Vancouver Centre, 711 West Broadway, Vancouver, BC

4 Hour Workshop




Vancouver

, BC


Click Here to Register
Victoria – Thursday, July 3rd
*new location!!
Church of Truth
111 Superior Street
Registration: 6:30 pm
Event: 7:00 – 11:00 pm
to activate your free tickets click here – http://warriorsage.com/cmd.php?af=682914
or email request to – Andrew@ConsciousLivingRadio.org