In Vancouver, BC Tune in every Wednesday 6 – 7 PM to CFRO – 100.5 FM
Anywhere in the world by Stream, Satellite, TelusTv - How to Listen
Only last 10 shows are available to listen to for free - REGISTER NOW. Supporting Members have unlimited access to this and hundreds of other life changing programs - Click Here to sign-up
Peter Ridgway is originally from Toronto, Ontario, his particular style is a fusion of art and architecture in thought, composition and colour. It developed from an early age under the tutelage of artists and architect, John Martin, Kay Boa and Sam Woodruff. With an award for the design of a new clubhouse in Toronto at the age of 14 his journey down this path of discovery began. Peter Pragnell Chairman of the School of Architecture at the University of Toronto first noticed his architectural paintings during his entrance interview gaining him acceptance into the school. Over his professional career he has refined the metaphysical aspect of the built form and the expression of it through his art. He now finds himself at a new crossroad in life where his vision of his personal future is being brought into question and here we witness a response from the depth of his soul speaking to us through his artist expression.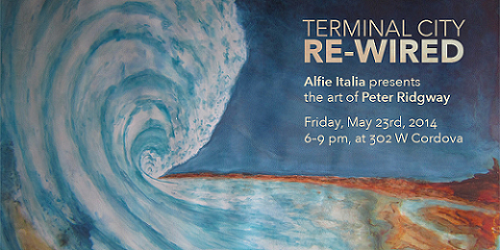 Description of the opening event
The upcoming exhibition of art at Alfie Italia, 302 W. Cordova St. Vancouver comes from a recent exhibition held at the Chinatown Experiment Gallery, entitled "Terminal City Re-wired". This event is the inauguration of Alfie Italia's Viva Fridays to be held each Friday over the summer. As part of the inauguration 17 pieces from this recent exhibition will be on display. The collection was developed over this past year. They are in part a response to the universal question of what our collective futures hold for us as a society of 7.2 billion people on this spaceship, we call mother earth. Part story telling, part visioning, a perspective of transformation evolves out of the work that ties into recent events; scientific discoveries of the intricate workings of the brain, our ability to communicate our thoughts electronically and what these might mean in our evolving world.