In Vancouver, BC Tune in every Wednesday 6 – 7 PM to CFRO – 100.5 FM
Anywhere in the world by Stream, Satellite, TelusTv - How to Listen
Only last 10 shows are available to listen to for free - REGISTER NOW. Supporting Members have unlimited access to this and hundreds of other life changing programs - Click Here to sign-up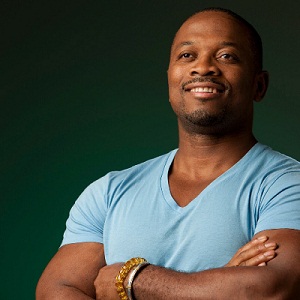 Nick Ugoalah
is a commonwealth games gold medal wrestler, entrepreneur, Chief of a village and a former foster child. He is the CEO/Founder of Business Coaching/Personal Development firm UGO High Performance, a company committed to developing high performing leaders, organizations and teams.
Nick travels worldwide inspiring others to excellence. His passion is to empower entrepreneurs and leaders to create massive success.  He loves to help people to understand specifically what it takes to build successful companies.  He is a certified executive coach, holds a BSc from Brock University and an MBA from Royal Roads University.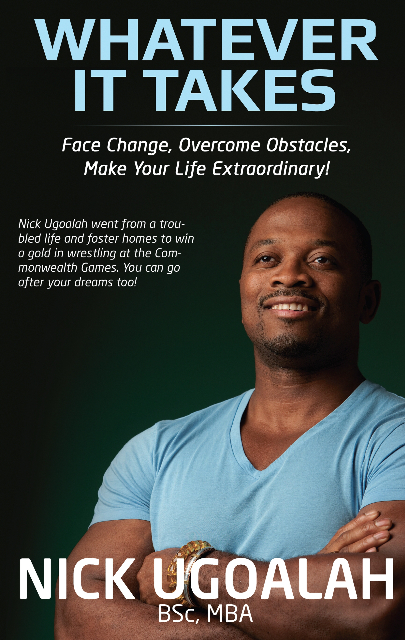 Nick was instrumental in creating a bursary that sends countless youth in foster care to University and summer camps.  In 2009, Nick was inducted into the Brock University Sports Hall of Fame.
Nick is also the author of Whatever It Takes.. a wonderful new book that contains extraordinary strategies for creating a positive attitude towards life and the success we all want.
MORE INFO – WWW.ugohp.com
UPCOMING EVENTS:"Whatever it takes"
Book Launch at Ten Ten Tapas,
January 15, 5.30 PM
Ten Ten Tapas
1010 Beach Ave, Vancouver, British Columbia V6E 1T7
I'd like to invite you to my book launch party on Thursday, January 15.
Derek, a friend of mine and the owner of Ten Ten Tapas, has graciously offered his restaurant to our group from 5:30 – 7:00pm.
It will be a chance for us to connect, have a drink/appetizers and I'll do a short reading from my new book. For those wanting to stay for dinner, there's a full tapas menu and live music starting at 7pm.
Come down, even just for a few minutes to say hi – I'd really appreciate the support!
________________________________
UNLEASH THE CHAMPION IN YOU
Transform your Potential into Your RealityYou can learn how to become stronger, more resilient and more powerful while having fun along the way.  Champions find a way, the will to win, and the drive to overcome any obstacle.  Discover yours at Unleash the Champion In You.
The breakthrough that transforms everything from your finances, to your relationships, to your health – is closer than you think.  Learn what it takes to Unleash the Champion in You! Connect with the people and passion that will make it happen!
Saturday
Feb 21, 2015
9:00am – 5:00pm
Vancouver, BC
Gain the power and clarity required to create an extraordinary life and fulfill your vision.  All champions have this quality and followers look for it.  You'll leave with a clear understanding of what you want in your life, as well as the core decisions required, create a plan supported with a clear strategy to keep you moving forward.
Here is a sneak peak of what we have on the agenda and small a sample of what you will leave with.
•    Learn the secret to peak performance that Nick Ugoalah has used to transform his life, the world's elite athletes, and business leaders.
•    Discover how to break the unconscious fears that are holding you back.
•    Powerfully experience where you are in your life, see exactly where you want to be, and learn how to close the gap between the two.
•    Master the 3 powerful questions that leaders use and turn every fear and obstacle into a source of power.
•    Develop a clear target of what you want in your life and why – in your career, your body, your finances, and your relationships.
•    And so much more!
This is your opportunity to train with Nick Ugoalah, a champion and coach of champions. Transform your Potential into Your Reality.
Enrollment $149
Add Guest $79
QUESTIONS?
Contact Adanma  – info@ugohp.com and let us know how we can assist you!