In Vancouver, BC Tune in every Wednesday 6 – 7 PM to CFRO – 100.5 FM
Anywhere in the world by Stream, Satellite, TelusTv - How to Listen
Only last 10 shows are available to listen to for free - REGISTER NOW. Supporting Members have unlimited access to this and hundreds of other life changing programs - Click Here to sign-up
2014 Conscious Entrepreneurs Gathering
Some people start a business just to make money. Others (a select few) start
a business to truly help improve people's lives and make the world a
better, more enjoyable place to be. These people are known as Conscious
Entrepreneurs!
About Elias Arjan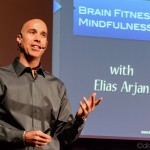 Elias Arjan is a professional speaker who has been featured on TV, radio and  various groups around the world. In 2011 Elias founded Business Brain to distill the complex fields of neuroscience, branding, marketing and psychology into a format that is easy to understand and useful to laypeople and seasoned business leaders alike.
Elias has generated over $15,000,000 in personal sales and been in the top 10% of every company he ever sold with. After training junior salespeople to replicate his results he went on to be a sales and marketing director for several start-ups and eventually launched his own consulting firm. Currently he is a speaker, trainer and consultant who also assists charities to raise funds though his work as a benefit auctioneer.
Elias has been a dedicated practitioner of Yoga and Mindfulness techniques for twenty years.
UPCOMING EVENT!
2014 Conscious Entrepreneur Gathering
When: January 25, 2014   9:30 am – 6:00 pm
Where: Strut Studios: 910 Richards Street, Vancouver


Elias Arjan is one of the four (4) top level, Conscious Entrepreneurs joining Karen Mcgregor who all once shared these same challenges and more. These visionaries have spent years developing strategies to take their little known businesses
to a much higher level and sell over six and seven figures annually!
Now they want to share these same secret strategies 
in this one day, one time, high impact event!
And best of all, they are ALL heart-based,  Conscious Entrepreneurs who have learned to make their business visible, with high integrity systems and processes that you can learn and take home the same day to begin making 2014 your most profitable year ever!