In Vancouver, BC Tune in every Wednesday 6 – 7 PM to CFRO – 100.5 FM
Anywhere in the world by Stream, Satellite, TelusTv - How to Listen
Only last 10 shows are available to listen to for free - REGISTER NOW. Supporting Members have unlimited access to this and hundreds of other life changing programs - Click Here to sign-up
What is Evolution of the Heart!

Patricia & Bill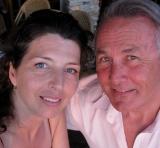 Professional Intuitives & Body Workers.

With years of training in many healing modalities including: physical, mental,emotional & energetic bodies- we have dedicated ourselves to continual growth and have a profound love for people & the planet. We have discovered amazing possibilities of experience with the heart & are committed to bring it out into the world for others healing and opening into their hearts. Powerfully, Simply & with Results.


It's the artfulness of finding your way HOME, of coming Back to Self… when you know that there is no more searching – that the answers are within you, your Higher Heart. It's a doorway that welcomes you to step into ALL that you are; a resting place to embrace the possibility of living the Life you have always wanted to Live!

It includes practices of going within and discovering a fuller way to express Life – with Yourself, your Family, & your Friends; which includes releasing pain around One's Heart that is preventing the full experience of Love in One's Life. These practices, tools & insights can be used in your everyday Life, embracing all of you: the unlovable becomes lovable; the judgments dissolve into compassion…
Upcoming Events :
Be Open to Love – Intensive Weekend
Nov 29th, 30th, Dec 1st
For more information email patricia.evolutionoftheheart@gmail.com
Open to Love Intensive Weekend – 450$
2 meals included
Friday 7 to 10pm
Saturday 10 to 8pm
Sunday 10
to 5pm