In Vancouver, BC Tune in every Wednesday 6 – 7 PM to CFRO – 100.5 FM
Anywhere in the world by Stream, Satellite, TelusTv - How to Listen
Only last 10 shows are available to listen to for free - REGISTER NOW. Supporting Members have unlimited access to this and hundreds of other life changing programs - Click Here to sign-up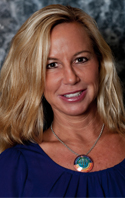 Melissa Joy Jonsson, Instructor of Matrix Energetics, Author is best known for her ability to engage people from all over the world to embrace their True Authentic Power through accessing universal consciousness by playing in the field of the heart. She has a unique perspective on how we are able to experience living joyfully, and loving completely from a state of grace.
Melissa has been teaching Matrix Energetics life transformational seminars around the globe since 2008. She is also the founder and instructor of the "M-Joy Of Being" (Women) seminar series, a unifying movement in consciousness dedicated to exploring and expanding heart-centered awareness and practical personal empowerment for women. Prior to finding a career she loves, she spent almost 15 years as an executive in the pharmaceutical industry.
Melissa is author of the book "M-Joy Practically Speaking; Matrix Energetics and Living Your Infinite Potential" (March 2014) and of "Into the Matrix: Guides, Grace, and The Field of the Heart" with Dr. Richard Bartlett. As a respected expert, Melissa teaches and is a sought-after speaker at learning facilities like The Omega Institute and conferences such as The Association for Comprehensive Energy Psychology (ACEP), The New Life Festival, The Conscious Life Expo, The What The Bleep!? European Conference, The IAK Congress on "Leaps of Consciousness" and others. Melissa is a frequent guest speaker on global radio broadcasts. She is well known for her eloquent articulation, and personable accessibility on both nationally and internationally recognized social media platforms.
Melissa has a Bachelor's Degree in Psychology from the University of California at Santa Barbara. She completed graduate studies at Pepperdine University's Graziado School of Business and Management.
Melissa Joy is passionate about inspiring others to realize their True Authentic Self (TAS) with practical, creative, and powerful wisdom that she embodies every day. She enjoys long runs near the ocean, reading, walking barefoot in the sand, and sharing with people the joyful journey of living their infinite potential.

Upcoming Events:
February 13-16, 2015, Matrix Energetics Seminars
Fundamentals Intensive + ME Unplugged: Spatial Clairvoyance
Vancouver Airport Marriott Hotel
7571 Westminster Highway
Richmond, BC, Canada V6X1A3
Join Matrix Energetics for our FREE and fun, no-obligation introductory course on Friday, February 13 from 7-9 PM. "Waking Up In the Matrix" is a free Introduction to Matrix Energetics offered by Dr. Richard Bartlett and inspiring co-instructor Melissa Joy Jonsson.
The free evening will be followed by the Matrix Energetics Fundamentals Intensive Seminar February 14-16
February 11, 2015, 6:30-8:00 PM
Banyen Books and Sound
3608 West 4th Avenue
Vancouver, BC, Canada V6R 1P1
Melissa Joy will discuss her latest non-fiction effort "M-Joy Practically Speaking: Matrix Energetics and Living Your Infinite Potential.