In Vancouver, BC Tune in every Wednesday 6 – 7 PM to CFRO – 100.5 FM
Anywhere in the world by Stream, Satellite, TelusTv - How to Listen
Only last 10 shows are available to listen to for free - REGISTER NOW. Supporting Members have unlimited access to this and hundreds of other life changing programs - Click Here to sign-up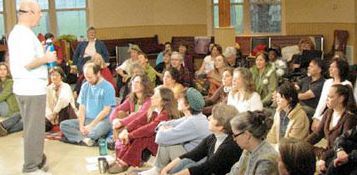 Edwin Coppard has been traveling the globe for over 30 years empowering people to share their gift of music. Edwin is a former recording artist with top chart hits in Canada. He joins Andrew to talk about his upcoming workshop "The Wild Voice Extravaganza" happening February 12, 13 and 14, 2010 in Vancouver, BC.
THE WILD VOICE EXTRAVAGANZA
You are born with a natural beautiful voice and a need to express yourself. The Wild Voice Extravaganza is all about music! It's about the transformations we go through to find our music! Out of your natural voice come songs that are untainted by commercial expectation.
This is an experiential learning event! This is not just another seminar where you try and stuff more and more information into your brain. Its a chance to share who we are through the age-old tradition of song.This event is for everyone, with or without anymusical experience. It's about outrageous fun! They are storytelling in its simplest and most potent form. They are compelling, powerful, and full of beauty and poetry.
To Register or for more information on this workshop go to: OUR EVENTS