In Vancouver, BC Tune in every Wednesday 6 – 7 PM to CFRO – 100.5 FM
Anywhere in the world by Stream, Satellite, TelusTv - How to Listen
Only last 10 shows are available to listen to for free - REGISTER NOW. Supporting Members have unlimited access to this and hundreds of other life changing programs - Click Here to sign-up
Explore – Experience – Enlighten – Evolve

Body Soul & Spirit Expo – VANCOUVER EXPO 2018
Considered one of Canada's most unique and inspiring events, the Body Soul & Spirit Expo is returning to Vancouver, where the event started 22 years ago in 1995!
With the growth of public interest in all things holistic over the past decade the Body Soul & Spirit Expo has been in the forefront of introducing the public to the many new options, ideas, concepts, products and ways of living that are now emerging in our world.
After seeing the need in the  growing interest in all things holistic,  Chandler Armstrong created the The Body Soul & Spirit Expo. The Expo features a number of intriguing exhibits, ranging from an array of products for wellness, alternative therapies, healing arts, aromatherapy, natural healing, to intuitive arts, esoteric philosophy, metaphysics, astrology and much more.
Buy tickets in advance Click Here
Our exhibitors range from local talent, stores, & societies, to internationally known experts, which has built the reputation of The Body Soul & Spirit Expo as one of the most interesting events, not only throughout Canada, but also throughout the United States, and beyond. See our exhibitor list for details. Click here
Not only are there workshops, there is also a series of free lectures too! For a complete schedule of this year's lectures visit the lecture page.
Date: February 2 – February 04, 2018
Times: Friday 3pm-9pm Saturday 10am-7pm Sunday 11am-6pm
Admission: $20.00 Admission is FREE with your MEMBERSHIP Starting at just $15 (in advance). Buy tickets in advance Click Here and save $5!!
Weekend Pass: $45.00
Exhibits: See our Exhibitor List
Lectures: included with Admission see Lectures
Workshops: Individual Priced, see Workshops
This year there will be a fantastic concert to wrap up the expo…Join Us for ALCHEMY – brought to you by Unite!!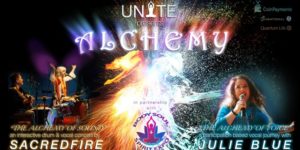 Experience Transformation… experience Transcendence… experience ALCHEMY!
Join UNITE in closing out the Vancouver Body Soul & Spirit Expo with an expansive evening of Musical ALCHEMY.
A powerful fusion of mystical, mesmerizing, live worldbeat drumming, heart-expanding intuitive singing, & a harmonic choir of united voices.
SacredFire will lead an interactive dance, drum, & song journey.
Julie Blue is facilitating a participation based tribal songscape.
ABOUT Sacred Fire Music
@SacredFire is MJ Vermette & Dean Richards ~ Canadian Worldbeat Sound Healing Musicians who travel the globe, igniting spirits with their interactive concerts & workshops.
Infused with the energy of the natural elements, their heart-opening vocals, tribal drumming, & musical meditation create a deep sense of peace in the body, mind, & spirit.

Featuring raw, ecstatic chanting & drumming, with a twist of world music, shamanic sound healing, trance drumming & heart-opening english & sanskrit songs, with audience participation.
SacredFire has performed & toured in France, Germany, Mexico, Canada & the US, & collaborated with the likes of Deepak Chopra, Gilad Atzmon (Pink Floyd, Paul McCartney, Sinéad O'Connor), John Turnbull (Bob Geldof, Eurythmics, Ian Dury & The Blockheads, World Party, Talk Talk) Hans Christian (Robbie Robertson, Krishna Das) and Ronan Chris Murphy (King Crimson, Robert Fripp and Tony Levin).
LINKS
Promo video with testimonials: https://youtu.be/VC-MKt4kOdw
Website: www.sacredfiremusic.com
Facebook : www.facebook.com/sacredfiremusic
---
ABOUT Julie Blue
Julie Blue is an accomplished singer and pianist, an award-winning film composer/recording artist and a uniquely transformational voice coach. She received the YWCA Women of Distinction Award and has shared the stage with luminaries such as Eckhart Tolle, Marianne Williamson, and Neale Donald Walsh. She has pioneered innovative and effective methods to help thousands of people liberate their voices and express themselves with authenticity and confidence. Julie is a master vocal coach, life coach and skilled soul whisperer who shares her teachings with heart and humour.
Julie creates symphonies of sound using the voices in the room, weaving an intricate dance of melodies; transcendent, beautiful, & deeply moving, reminding us of our roots as tribal beings, united by song.