In Vancouver, BC Tune in every Wednesday 6 – 7 PM to CFRO – 100.5 FM
Anywhere in the world by Stream, Satellite, TelusTv - How to Listen
Only last 10 shows are available to listen to for free - REGISTER NOW. Supporting Members have unlimited access to this and hundreds of other life changing programs - Click Here to sign-up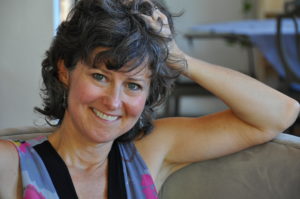 AS SHE IS is a timely documentary which explores the intimate nature of the Sufi path of surrender. With lush imagery, a moving soundtrack, and candid interviews, the film examines how masculine drive and individualism can give way to feminine relation and belonging—and redress a human world so out of balance. Simultaneously activist and contemplative, this film investigates the roots of our current cultural crisis and reveals the power of the individual to influence the whole. Featuring interviews with LLEWELYN VAUGHAN-LEE, VANDANA SHIVA, and others.
Megan McFeely, Director/Producer, AS SHE IS, follows the inner path of Sufism and has been on a journey towards what is natural, essential and authentic for most of her life.  The question, "Who are we as human beings from the inside of ourselves?" has been at the center of her inquiry.  She spent more than 25 years providing strategic communications counsel for media and technology companies, authors and non-profit organizations to create voice and visibility for for what is coming next.
As She Is was first screened at the Library of Alexandria in Egypt to 200 women from 20 different countries. It also won Best Debut Documentary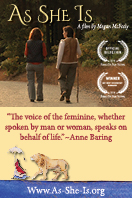 Filmmaker from FEFF in Toronto in 2016.
"AS SHE IS is a hauntingly beautiful musing on feminine consciousness." ~ JOANNA MACY, environmental activist & Buddhist scholar
Screening details are listed and sponsored by Banyen Books & Sound on their event page. Click here to see the details. View the trailer by clicking here