In Vancouver, BC Tune in every Wednesday 6 – 7 PM to CFRO – 100.5 FM
Anywhere in the world by Stream, Satellite, TelusTv - How to Listen
Only last 10 shows are available to listen to for free - REGISTER NOW. Supporting Members have unlimited access to this and hundreds of other life changing programs - Click Here to sign-up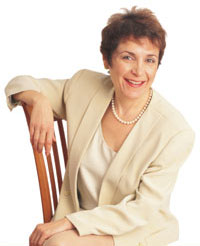 CAROLINE MYSS
Best-selling author & world-famous medical intuitive 
Guest of Seattle Extraordinary People Series

Date  From January 23, 2009 7:00 PM
Location  Celebration Hall at Center for Spiritual Living
5801 Sand Point Way NE, Seattle, WA 98105   [map it!]
Info Line  970-443-0732  Website  http://www.BellaSpark.com
Tickets – http://www.brownpapertickets.com/event/46491
Beyond Reason: Simple Truths That Can Heal Your Life
You can't reason with illness, crisis or God, but you sure can try! Caroline will explore how to get through a crisis turning point in your life and heal, by drawing upon mystical wisdom, common sense and universal truths. Learn to view healing as an act to be experienced, and rewrite your journey to health.
Caroline Myss is dedicated to creating educational programs in the fields of human consciousness, spirituality and mysticism, health, energy medicine, and the science of medical intuition. In 2003, she established CMED, her own educational institute, which offers two programs, each running three courses per year, on Sacred Contracts and Mysticism. Caroline also maintains a rigorous international workshop and lecture schedule and continues a consultation practice as a medical intuitive with physicians, psychiatrists, psychologists, and other health practitioners.
Caroline began her professional career as a journalist in 1974. After completing her Master's degree, she co-founded Stillpoint Publishing in 1983 in Walpole, New Hampshire. From 1983 to 1990, Caroline worked as head of the editorial department for her publishing company, which produced an average of ten books per year in the field of human consciousness and holistic health. Simultaneously Caroline began her career as a medical intuitive. In 1984, Caroline met C. Norman Shealy, M.D., Ph.D., a Harvard-trained neurosurgeon who had an interest in the science of medical intuition. They began a colleagueship that continues to this day. During their early years together, Norm helped Caroline develop her skills by having her conduct health readings on his patients. During Norm's interview with a patient in his office in Springfield, Mo., he would phone Caroline for her assessment of the patient's health. The only information Caroline requires is the name and age of a patient and his or her permission. From that data, Caroline is able to profile the patient's physical/psychological/emotional and family history.
Through this research, Caroline developed the field of Energy Anatomy, a science that partners specific emotional/ psychological/physical/spiritual stress patterns with the diseases that they create or influence. This research proved so accurate that it became the subject matter of a book co-written by Caroline and Norm: THE CREATION OF HEALTH. Eventually this ground-breaking research became standard classroom material for students studying the principles of holistic health, psychological stress patterns, and the alternative methods of healing.
As a result of this work, Caroline earned a national as well as international reputation as a renowned medical intuitive. She is respected as the leading pioneer in the field and as a result of her work in opening this field, more than ten thousand practitioners are now active in the health field. From 1992 to 2004, Caroline and Norm developed an educational program to teach the Science of Medical Intuition. In 1996, they founded the Institute for the Science of Medical Intuition, which funds research in the field. This Institute remains active.
In 1996, Caroline compiled her years of research in medical intuition with her work in the field of human consciousness, releasing the book ANATOMY OF THE SPIRIT. This book became a New York Times bestseller and has been published in 18 languages. To date it has sold over 1.5 million copies. Eighteen years of research in medical intuition led Caroline to explore more deeply the field of holistic health, specifically, the dynamics of healing. Her research in this resulted in her study of why people do not heal. In investigating the underlying reasons why people sabotage their healing processes, Caroline identified a syndrome she calls "woundology," characterized by a person's reliance on the power of illness for manipulation of his or her world, as opposed to attaining an independent, empowered state of health. As with her other ground-breaking research, this syndrome is now a recognized psychological condition. Her work in this area became the subject for her third book, WHY PEOPLE DON'T HEAL AND HOW THEY CAN. This book was Caroline's second New York Times bestseller.
Following that research, Caroline developed her interest in the language of symbols, myths, and archetypes. Her medical intuitive readings expanded beyond gathering data on health stress patterns to including the symbolic language inherent to each individual. As a result of that research, Caroline was able to profile an individual's "Sacred Contract," a complex of 12 archetypal patterns that reflect in mythic language the agreements the soul made prior to birth. This research opened an entirely new area of work that drew interest from around the globe. As a result of this work, Caroline released her fourth book, SACRED CONTRACTS, which became her third New York Times bestseller. This book has also been published in 18 languages and reports sales of well over 1.6 million copies.
In 2003, based on the interest generated by her work in Sacred Contracts, Caroline opened her own educational institute. CMED (Caroline Myss Education) offers two programs per year, each three sessions long. The first is on Sacred Contracts and the second is on Mysticism, Intuition, and Healing. The Institute draws students from nineteen nations as well as across the United States.
In 2004, Caroline released her fifth book, INVISIBLE ACTS OF POWER, which also became a New York Times bestseller. She is now working on her sixth book, ENTERING THE CASTLE, as well as her media project on the mystical history of America, which includes the book, THE SACRED CONTRACT OF AMERICA.
Throughout her career, Caroline has taught in thirty-five countries, continuing her international work at present. In addition to writing six books, Caroline is the leading recording artist for Sounds True, Inc., the major audio recording company in the holistic field. She has recorded with them since 1990, producing 30 different titles. Her entire library of recordings now numbers over 180. In 2003, Oprah Winfrey gave Caroline her own television program with the OXYGEN network in New York City, which ran successfully for one year. Caroline does an average of six radio shows per month and five newspaper or magazine interviews in both national and international publications.
More Info – http://www.myss.com
Music played during the show – www.nathenaswell.com