Tune in every Wednesday 6 – 7 PM to CFRO – 100.5 FM
Anywhere in the world by Stream, Satellite, TelusTv – How to Listen
Only last 10 shows are available to listen to for free. Supporting Members have unlimited access to this and hundreds of other life changing programs – Click Here to sign-up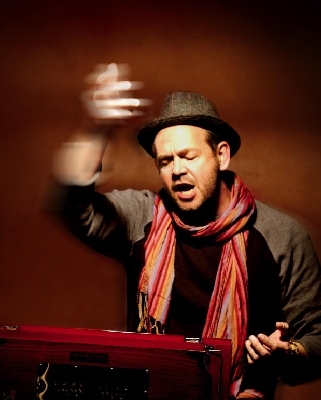 Dave Stringer
"High energy, ecstatic chanting at its best."
— Yoga Journal
"Dave Stringer has integrated his interest in Kirtan, an Indian tradition of devotional chanting, with his masterful grasp of Western popular music, creating an exciting style of psychedelic pop as informed by traditional Eastern music as the Beatles." — All Music Guide
"A volcano of a voice! Stringer transported us to another time and place. His fiery, soulful voice gave the entire room a feeling of a down-home gospel jam and one could not help but sing along." — LA Yoga Magazine
"A departure from ancient kirtan. Stringer's performance shaped the experience into a far more compelling musical encounter." -– The Los Angeles Times
Dave Stringer is profiled in publications worldwide as one of the most innovative artists of the new Kirtan movement. Stringer's sound invokes the transcendent mysticism of traditional Indian instruments with the exuberant, groove-oriented sensibility of American gospel and the ringing harmonies of Appalachia.
Initially trained as a visual artist, filmmaker and jazz musician, Stringer's work underwent a significant shift when video editing work brought him to an ashram in Ganeshpuri, India in 1990. It has also been informed by a subsequent period of service teaching meditation to prison inmates, and expanded by his interest and research in neuroscience.
An articulate and engaging public speaker, Stringer probes the dilemmas of the spirit with a wry and unorthodox sense of humor. His work intends to create a modern and participatory theatrical experience out of the venerable traditions of kirtan and yoga, open to a multiplicity of interpretations, and accessible to all.
In the last decade, Yoga has grown from Indian roots into a global cultural phenomenon. Simultaneously, Kirtan, an ecstasy-inducing, call-and-response form of mantra chanting, has experienced a worldwide renaissance. Stringer and a diverse ensemble of accompanying musicians travel extensively, giving concerts, workshops and retreats in North and Central America, Europe, Asia and Australia .
Stringer's eighth album, "Elixir" was released by Sounds True in February, 2015. Elixir is based on Lorin Roche's translations of the Radiance Sutras, a classic work of philosophy in the tradition of Tantra. His ninth album, "The Satellite Sky" will be released in October 2015. The Satellite Sky is an elegant and philosophical songwriter album that seamlessly blends elements of Americana with influences from Hindi and Gypsy folk traditions, producing a new genre that might be called Country and Eastern.
Artist Website: Dave Stringer