In Vancouver, BC Tune in every Wednesday 6 – 7 PM to CFRO – 100.5 FM
Anywhere in the world by Stream, Satellite, TelusTv - How to Listen
Only last 10 shows are available to listen to for free - REGISTER NOW. Supporting Members have unlimited access to this and hundreds of other life changing programs - Click Here to sign-up
The Healing Power of Sound – With Matthew Kocel
In this episode Tasha speaks with Matthew Kocel. Based in Vancouver BC, Matthew is a man on a mission to inspire peace through the universal language of music and sound. As a Cosmic throat singer, sound healer, multi instrumentalist and musical visionary, Matthew says "music can open the heart to experience ourselves beyond the body and five senses, beyond the confines of time and space."
"Words seem so deficient for explaining the depth of experience we all felt… I was being moved by sound, my whole body was light and vibrating. "
— Amy Holt, Vancouver Yoga Review

Claim Your Free Gift of Matthews Healing Music – Click Here
More About Matthew:
Matthew Kocel is a throat singer, sound healer, multi-instrumentalist, composer and recording artist with over 3 decades experience as a performer and multi-disciplinary healing arts practitioner.
With his throat singing, overtone chant and natural voice Matthew has tapped into a universal stream of music that feels deeply familiar yet new at the same time.
The harmonic overtones of his voice – 2, 3 or more notes sounding at the same time – resonate to the core of your being, expanding awareness beyond the physical body and 5 senses.
Accompanied by humble acoustic instruments and ancient technology, Matthew's live performances have impacted people from all walks of life internationally from Canada & USA to Central and South America.
Reactions to Matthew's music have been well documented online with people consistently sharing similar stories of extra-ordinary experiences during his events.
Upcoming Events: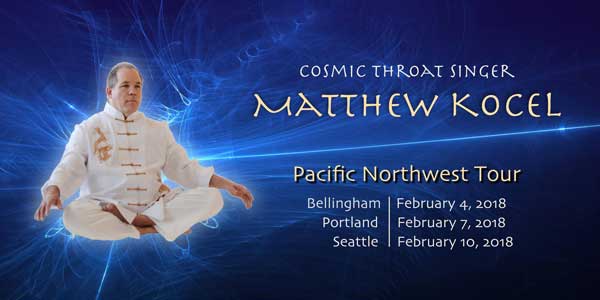 Bellingham, WA – Sun, February 4, 2018 7:00 PM – 8:30 PM PST
Location: Heiner Theatre, Whatcom Community College, 237 W Kellogg Rd, Bellingham, WA 98226
Location: The Old Church Concert Hall, 1422 Southwest 11th Avenue,Portland, OR 97201
Seattle, Wa. – Sat, February 10, 2018 7:00 PM – 8:30 PM PST
Location: Seattle Unity 200 8th Ave N Seattle, WA 98109
What people are Saying…
"Words seem so deficient for explaining the depth of experience we all felt… I was being moved by sound, my whole body was light and vibrating."
– Vancouver Yoga Review
Imagine floating in an ocean of cosmic sound… vibration so profound it seems to take on qualities of form, texture and color. It's hard to believe these tones come from a human.
The harmonic overtones of his voice resonate the core of your being, taking you on a journey beyond time and space.
"…I remember the vibrations building, layer upon layer, until my body, the air, walls, trees -I felt and saw everything rippling in vibration!
Your words and demeanor are as much of a gift as the music, as you speak truth with clarity and humility."
-Jayne
"I really enjoyed your music last night. I still feel the energies resonating and it has been a blessing. It's like afterwards I feel like I have no body at all and then I'm in awe of everything :)))
Somehow I became the sounds. I got a CD and heard half so far and love it! Thank you!"
-Jeanette
"One of the most amazing parts of the music was that it almost seemed to move around the room and it would get more intense on one side and then move to the other side. Very wonderful.
I sat on the floor cause it felt like the right thing to do and I meditated while listening to the music… I got pretty deep and I felt like my arms and body were down low and far away and I got into a weird spinning feeling like spinning in all directions and the sound moving around. It was amazing while it lasted.
Thanks for the experience."
-Chris
"I walked into a salt cave not knowing what to expect and truthfully not expecting much. What I came out with though was complete peace and calm after a turbulence of different emotions though each of your songs. The experience was life changing and unforgettable and I look forward to repeating it!
Thank you for the links to your music, you truly are gifted and have a healing power."
– Sanita