In Vancouver, BC Tune in every Wednesday 6 – 7 PM to CFRO – 100.5 FM
Anywhere in the world by Stream, Satellite, TelusTv - How to Listen
Only last 10 shows are available to listen to for free - REGISTER NOW. Supporting Members have unlimited access to this and hundreds of other life changing programs - Click Here to sign-up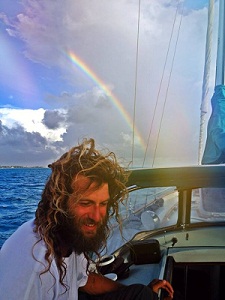 My name is Daisy.
I am a 28 year old male from San Francisco, the name given to me at birth was Adam Dresner, but when I introduce myself to people now, I feel more comfortable with Daisy as it is the name I acquired while traveling.
I left High School early, always feeling that it just didn't "do it" for me. I tried going to different colleges, studying different majors, but nothing kept my attention. I worked at a bank for two years as a loan consultant, and one year at a recycled paper company as a sales man. The transition from Adam to Daisy started with a free two week tour of Israel that was used as a launch for what became a four year journey that led me to learn about myself and the world around me.
As I traveled Europe and some of the surrounding countries I learned many new things, including how to play guitar and how to make money a non-priority. It took me six months in total make my way across the Atlantic, through the Caribbean and Bahamas until finally reaching The United States..
I am now making my way North through Canada to hunt for Northern Lights.