In Vancouver, BC Tune in every Wednesday 6 – 7 PM to CFRO – 100.5 FM
Anywhere in the world by Stream, Satellite, TelusTv - How to Listen
Only last 10 shows are available to listen to for free - REGISTER NOW. Supporting Members have unlimited access to this and hundreds of other life changing programs - Click Here to sign-up
Our guest on tonight's show is one of the fabulous presenters on the line-up for the Tony Robbins LIVE event in Vancouver July 27th.
More info about this MEGA EVENT and tickets at only $97 Click Here – Tony Robbins Live in Vancouver
Cameron Chell's story is super inspirational and he delivers some great content around how to re-bound from so-called 'failures' and build a successful and effective team around you.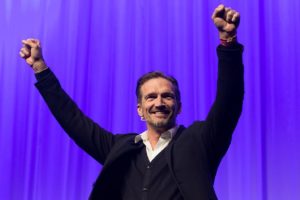 Cameron Chell – A Master Business Strategist, Cam will teach you his organizing principals for how to position your life, career and business at the forefront of the world's emerging trends while sharing his profound and gritty personal story of overcoming catastrophic loss.
By the age of 33 Cam had been a focused athlete and was a self-made success. He had built several billion dollar organizations, had been one of the pioneers of Cloud Computing, owned several properties across North America and enjoyed the "work hard"/ "play hard" life of the technology bubble. On September 11th, 2001 that world came crashing down.
The advent of 9/11 which he witnessed first-hand at the World Trade Center sent his world into a tailspin. He lost everything and found his ability to move through the resulting financial and psychological affects impossible. He turned to a life of substance abuse which as a result found him homeless and alone. Cam was in and out of rehab and unable to get back to that place where he could find solutions to this life altering situation.
Cam realized that success or failure was directly measured by responsibility. Cam will share how, with just $35 and the will to survive, he turned his life around and in just a few short years he regained both his health and prior financial success by first helping others to use his Master Strategies.
Today Cam is leading several companies to great success. Recently Urthecast which he Co-founded was awarded the number #1 Technology Company in 2016 by Deloitte for the creation of the first ever live video of Earth. This success he concedes is not done in a silo or by traditional KPI measurement but by RIPs or responsibilities in perspective. It is how the teams he leads determine strategic importance based on actions and measurements to deliver success.
Cameron has four children, is married and lives in Venice, California.