In Vancouver, BC Tune in every Wednesday 6 – 7 PM to CFRO – 100.5 FM
Anywhere in the world by Stream, Satellite, TelusTv - How to Listen
Only last 10 shows are available to listen to for free - REGISTER NOW. Supporting Members have unlimited access to this and hundreds of other life changing programs - Click Here to sign-up
Join Tasha and Andrew this coming Wednesday Nov. 22, 2017 as  they speak with Udo Erasmus about his passion for healthy conscious living and his new book – "Total Sexy Health – The 8 Key Parts Designed by Nature"
Join Udo Live in Person at Eternal Abundance Mon. Dec. 4th, 2017 7:30 pm-9:00pm
Click here to Reserve Your Seat Now
Who is Udo Erasmus?
Udo Erasmus was born during the second world war. Before his 3rd birthday, he was a refugee child on a wagon drawn by an old, skinny horse led by an exhausted mother alone with 6 children under 6 years old, fleeing from communist tanks and trucks behind and into the artillery fire from airplanes of the allied forces. He experienced the chaos, anxiety, fear and terror of war, rejection, abandonment, hunger and broken promises, but life took perfect care of him, and he survived and learned to thrive.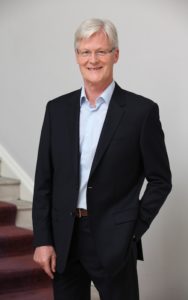 When he was 6 years old, he watched an intense argument between frustrated adults. He thought, "There must be a way to live together in harmony. I will find out how." With that thought as his driver, he studied
Sciences to find out how things work
Biological sciences to find out how creature work
Psychology to find out how thinking works
Self-knowledge to find out how he works
This thought, his studies, wide-ranging extra-curricular reading, discussions in politics, religion, culture and mysticism, and the school of hard knocks inform his work.
Over the past 30 years, Udo completed 5,000+ talks, 3,000+ media interviews and 1,500+ staff trainings in 40+ countries, has key-noted on four continents, and has graced the stages of Tony Robbins (on health) as well as Deepak Chopra (on peace).
Key topics of interest include:
Health: The Book On Total Sexy Health; Digestive enzymes; Probiotics; Greens; Prebiotic fiber; Products for animals
Oils: 4 books: Fats And Oils; Fats That Heal Fats That Kill; Omega 3 Cuisine; Choosing the Right Fats; A method for making oils with health in mind; Flax seed oil, Udo's Oils;
Human Nature: Thirst Of The Heart; The Only Cure For Stress; Mastering Socrates' Secret; Between Sound And Silence; You Are Magnificent; and others
Wholeness: M/S: The Biological Roots Of Peace; The Power Of Self-Knowledge; Mastering What The Masters Mastered; Fully Present In All Of Your Being;
Sustainable Environment: M/S: Burning Water;
Education: Many topics relevant to the world we live in.
Other books by Udo Earasmus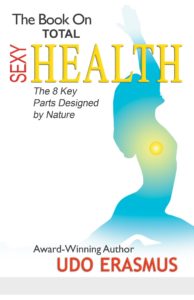 Free Gift – Chapter 1 of Udo's New book – Total Sexy Health – Click Here Now!!
The Vision/Possibility:
All 8 billion of us can live our lives lit up from within and fully present. The light is already in us. It's just a matter of looking into that light rather than outward and away from it.
Lit up, we feel so cared for that we don't feel the need to steal each other's stuff, and we can then live together in harmony.
Lit up and in harmony, we ensure that everybody's basic needs are met in a long-term sustainable way. There is more than enough for all.
Discontent, we hold on to stuff we don't need, because we fear that if we gave away what we don't even need, we'd feel even more discontent. Once our discontent dissolves in the light of life that cares for each of us perfectly, sharing what we don't need with those who need it becomes second nature: easy and natural.
For more information and to learn more about Udo and his fantastic products visit the links below:
www.facebook.com/udoschoiceofficial
About Your Host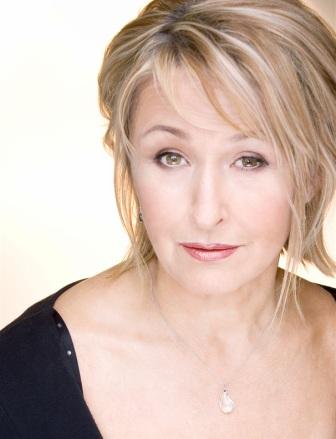 Tasha Simms M.A. M.P.C.A
Tasha is a Registered Professional Counsellor and holds a Masters degree in Counselling Psychology. Her private practice is in downtown Vancouver where she works with both couples and individuals. www.AuthenticSelfCounselling.com 
Tasha loves designing and facilitating personal growth workshops for diverse groups and businesses. She weaves her skills as a working actor, writer and motivational speaker with her creative, body centered therapeutic approach to teach passionate expression and acceptance of the Authentic Self. Her focus on healthy communication and conscious leadership inspires individuals, couples and organizations to be the best they can be and flourish.
Trained in a variety of disciplines including Family Systems Theory, Gestalt, as well as cognitive and Psycho/Spiritual orientations, she has been practicing the principles of A Course in Miracles for over 20 years. She is known as a mentor with integrity who has taught many individuals as well as counsellors, locally and internationally to embrace their birthright of a life of passionate purpose, joyfully human yet in perfect alignment with their spirit.      As a certified Master Neuro Linguistic Programming facilitator trained in body work, energy healing and hypnotherapy, her contribution to support this integration is an audio series called Body Awareness Training. http://www.authenticselfcounselling.com/WorkshopsandCDs1.html
The training includes a sensory meditation designed to wake up feelings in the body, encourage self –knowledge and acceptance and also to invite a deep experience of the Divine Essence that is at the core of us all. Tasha's curiosity, compassion and juicy celebration of life are just some of the gifts she brings to her commitment to be of service.
Her history in radio makes co-hosting at Conscious Living Radio feel like coming home. Tasha was one of the first female DJ's on-air in Canada in the mid-day spot in rock n roll radio at Q-107 FM Toronto.  Email: Tasha @ ConsciousLivingRadio.org  Email: Tasha @ ConsciousLivingRadio.org